Announcements & Events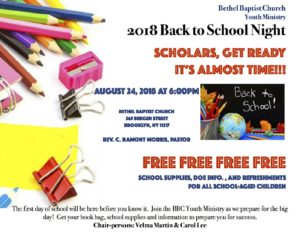 Youth Ministry will distribute school supplies
to start the school year.


Evangelism Workshop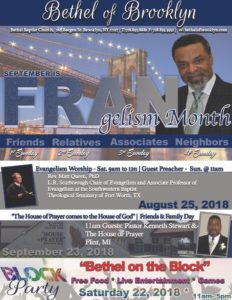 September is FRANGELISM Month
at Bethel Baptist Church
We're planning for a great time in
the Lord, with guest preachers and
teachers, including a Block Party.
Each Sunday we'll be looking for you
to see if you'll be bringing a friend, relative,
associate or neighbor. Let's share the
We'll begin with an Evangelism conference
Saturday, August 25th, 9 to 12 pm
Click

here

for more details.
Sunday, September 9th @ 3:30 PM
The Joint Ushers Ministry will have
their 103rd Annual Usher Sermon

"Bethel on the Block"

Block Party
Guest Preacher
Sun. Sept. 23 @ 11 AM
Pastor Kenneth Stewart
and House of Prayer, Flint, MI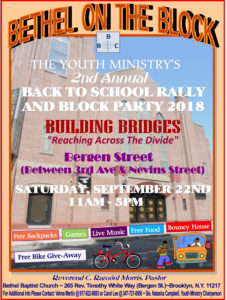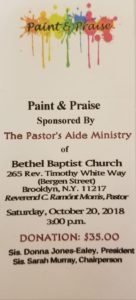 Bible Study has concluded and
will resume again after the summer
Rev. C. Ramònt Morris, Pastor
Kindness

"Do not let kindness and truth leave
you; Bind them around your neck,
Write them on the tablets of your heart."
ASV Proverbs 3:3
Remember kindness is easy
and
inexpensive
which can be a very
big
thing that will lift
someone up.
Bethel Baptist Church Celebrates
112 Years


Rev. Dr. Leroy Elliot,
Pastor
New Greater St. John Baptist Church, Il.
Sis. Juanita Joyner-Hicks, Chairperson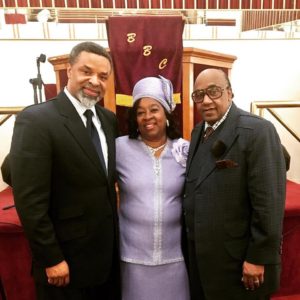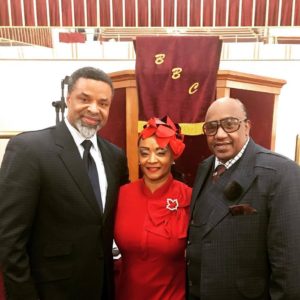 Th
ank you for blessing our service,
what an awesome day! God Bless you always.
Bethel's Back To School
Rally and Block Party
Congratulations Pastor C. Ramónt Morris
Second Anniversary Celebration
Our Christmas Cantata
______________________________________________________________________
Honoring the Word to Handle
Thy word is a lamp unto my feet,
and a light unto my path.
For the word of God is living and
powerful, and sharper than any
two-edge sword, piercing even to
the division of soul and spirit and
joint and marrow, and is a
disceren of the thoughts and
But be doers of the word, and not
hearers only, deceiving yourselves.
How can a young man cleanse his way?
By taking heed according to Your word.
He sent His word and healed them,
And delivered them from their
Bless the Lord, you His angels,
Who excel in strength, who do his
Word, heading the voice of
The grass withers, the flowers fades,
But the word of our God stands forever
Study. Conversation. Intercession.
Study: Making the Bible central to life
and studying it in public and in private.
Conversation: Recognizing that
contrary
speech indicates division
Intercession: For our church and
members
regarding spiritual matters.
Positivity: Recognizing and answering
the negative in self and others with
Tithing: Financing the church God's way
through collective obedience.